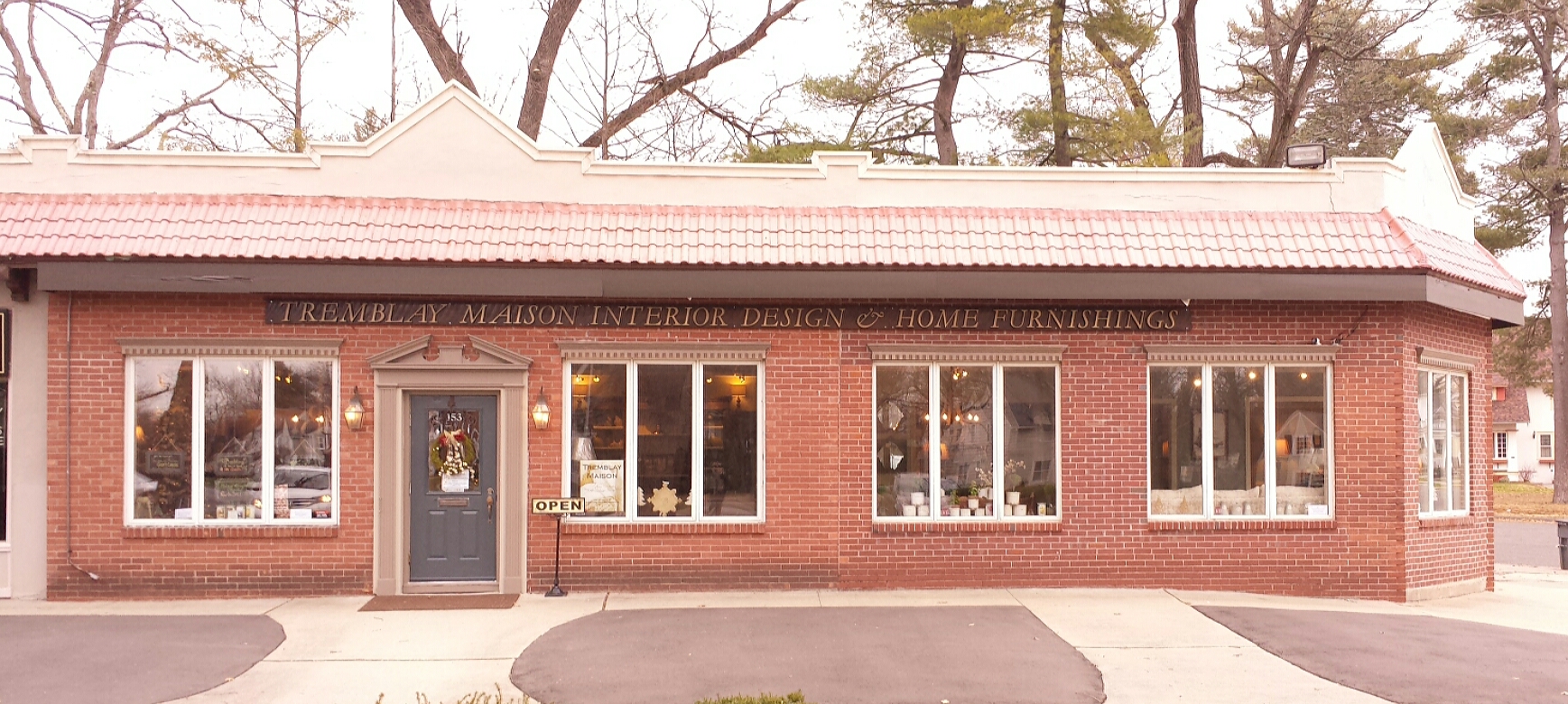 Tremblay Maison's Store to Shop in…
153 Longmeadow Street, Longmeadow, Massachusetts  01106
---
We are open!  We have been looking forward to opening our new shop in Longmeadow, MA and that time is now here.  We are a small boutique furniture, accessories and home gifts store with a new location. Tremblay Maison is Open Thursday – Sunday to cater to your immediate shopping needs in addition to client meetings and interior design services we schedule seven days a week (our Store can always be open by appointment, so give us a call).  Please stop by and visit us now that we are finished with all the new renovations to the space and we are stocked with furnishings for your perusal.   We sell right off the floor with only a few limited "special order only" items which would carry a lead time.  We want you to be able to take home that day, anything that you would like to purchase.  Any questions while you're shopping?  Just ask, we love to answer questions about any of the products and pieces we have, and provide additional information on things we can custom order just for you.  We still have more things coming into the store, with new items all the time.  Styles will change with the seasons and as our stock is replenished, so whether you're looking for traditional to sleek and modern, our selections will vary each time you visit, so be sure to keep coming back!
We are open Thursday through Sunday from 11-5pm, with additional hours during the week by appointment, or availability, if you see our Open Sign out – then we are Open!
We also Schedule Interior Design Appointments seven days a week to work with your schedule.
---
Hours:Â 
M-Wed: By Appointment (Our Store is not consistently open these days to allow for Design Appointments but of course if our open sign is out, we are there and open so please come in!)
Thursday & Friday: Â 11-5 or by Appointment
Sat & Sun: 11-5 or by Appointment
153 Longmeadow Street
Longmeadow, MA Â 01106
Tel: 413-250-8810
Tremblay Maison
Interior Design – Decor – Home Furnishings – Furniture
---
Directions:
Easily accessible from Interstate 91, and Route 5
From CT & Points South: Take I-91 North to exit 49 (for Longmeadow Mass) and merge onto Route 5 North, continue out of Connecticut and past Bay Path University on your left, to 153 Longmeadow Street (route 5) the parking lot is located off of South Park Ave on your right.
From points North: Take I-91 to exit 1, Route 5 South, once off the exit continue straight through two sets of lights, 153 Longmeadow Street will be on your left, the parking lot is located off of South Park Ave on your left. 

Tremblay Maison is located next to Mirkins Cleaners and Caprice Creative Salon, across the street from Berkshire Bank, and just down the street from the exit of Bright Nights at Forest Park.
Google Maps: https://goo.gl/maps/jkW3qLSNnmq
Google Street Views of Tremblay Maison:
Tremblay Maison Interior Design & Furniture Store Street View Google Maps
Route 5 Longmeadow Google Maps Street View Tremblay Maison Storefront Showroom
Google Maps Street View Tremblay Maison Longmeadow MA Interior Design Showroom Store
---
---

153 Longmeadow Street, Longmeadow, Massachusetts  01106
---
---